Here are 15 reasons why you should run your first marathon at TBR Dream Marathon:
1. Made for first-time marathoners
We have limited slots reserved for runners attempting to complete their first or second marathon. This race was made for the beginner from day one of training in to full support on race day. Race cut-off is generous and appropriate for 1st-timers.
2. Training program by Coach Jim Lafferty
To help you train properly, you will receive a 22-week Training Program developed by co-founder and finisher of over 20 marathons, Coach Jim Lafferty. Should you have any questions, he is just an email away.

Jaymie Pizarro, The Bull Runner, with Co-Founder, Jim Lafferty
3. Bull Sessions (long runs)
While most of the runs will be done on your own, once a month all participants will be invited to a Bull Session: long group runs together led by our principal coach and guided by our volunteer pacers. We run using the run-walk technique and you will be divided into groups so you can go at your own pace with fellow Dreamers. By the time marathon day comes, most runners along the course will be familiar faces—or better yet, good friends!

Bull Session at NUVALI for TBR Dream Batch 2010

Bull Session 1 at BGC for TBR Dream Batch 2013
4. Bull Circles (talks)
Once a month, you will be invited to talks by running experts specifically chosen by TBR because of their knowledge and competency in a particular field. Past speakers include Sen. Pia Cayetano, Coach Jim Saret, Dr. George Canlas, Coach Chappy Callanta, Christine Jacob, and many more.
5. Personal and intimate marathon experience
Due to the small number of participants, we can and will try our best to give you more personalized attention and care. We will provide more than enough water, Gatorade, fruits, chocolates, sponges, and ice. Even our marshals and volunteers will treat you like friends.
6. Safe & scenic route
Our course is in Filinvest City, an expansive 244 hectare township development in Alabang, Muntinlupa City.  You'll run through its lush, green landscapes in a modern urban environment.
7. Dream Chasers
Experienced marathoners and volunteers (mostly TBR Dream alumni), handpicked and screened by the race organizers, will be on standby at four Dream Chaser tents along the race course. At any time a runner requests for help, the "Dream Chaser" will happily run a few kilometers with the marathoner to provide hydration, gels, food, or even silly jokes. Last race they provided masseuses!

Ruby Gan escorted by Dream Chaser Peter Ros (left) and Mitch Felipe-Mendoza (right) during TBR DM 2011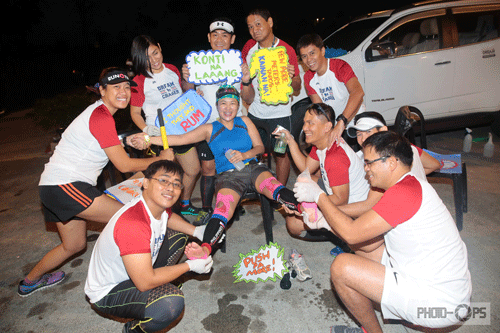 Dream Chasers at TBR Dream 2015
8. Dream Mobile
One bus will travel along the route during the race. Family and friends of runners can hop on the bus (with their banners, flags, and bells in hand) to cheer for their runner when they spot them along the route.
9. Family Activities
While they wait for the runners, families and friends can enjoy breakfast at West Gate or Filinvest Mall. They can opt to bring food and have a picnic at our Dream Village.
10. Entertainment
We'll have music blasting at the start/finish line and even a band playing along the route to keep you entertained and energized.
11. Perks & Freebies
You don't just get what you pay for, but you get MORE. You get two shirts: 1 TBR Dreamer shirt and 1 TBR DM finisher's shirt. You get automatic inclusion into Dream Mail, our e-newsletter, for updates on our group activities and inclusion into TBR Dream Marathon Facebook Group, and goodies from sponsors that should make your registration fee worth every cent.
12. TBR Dream Card
Upon registration, you receive a TBR Dream Card which provides you with discounts and privileges from our partners and sponsors.
13. Send off party
A week before the race, we will all gather for some food, raffle prizes, pre-race briefings, and a whole lot of laughter and chatter for a TBR Dream Send Off Party that we'll prepare for you. This is where you'll also claim your race kit.

TBR DM 2012 Batch Photo during our Send Off Party

During our Send Off Party 2013: with hosts Boy Ramos and Tessa Prieto-Valdes with TBR Dream Team (missing in photo: Jim Lafferty)
14. Help others
By running this marathon, you're also helping make the world a brighter place! Part of race proceeds will go to Sun Life Foundation.
15. Be a part of the ever-growing TBR community
No other race creates a bond among each batch of participants the way TBR Dream Marathon does. With over 5,000 TBR Dream alumni, you will never feel alone when it comes to running.