The Bull Runner Unilab Active Health Dream Marathon is not just about letting first-time or second-time marathoners reach their marathon dream. It is also about experienced marathoners being given the opportunity to give back to the running community, to give new runners the same support and motivation they received from others. To basically pay it forward.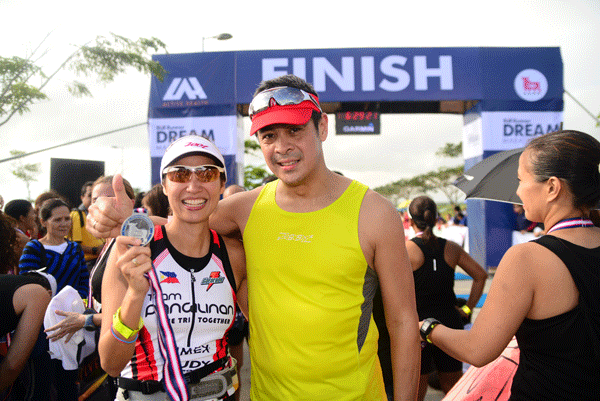 – Maricel Laxa- Pangilinan with her Pacer, husband Anthony at TBR Dream Marathon 2013 –

Every year, we open limited slots for PERSONAL PACERS.  Pacers are runners who are willing to run all 42.195km with a registered TBR ULAH Dream Marathon participant.  The Pacer will run to support the first-time marathoner and NOT to run his or her own race.  He or she will NOT receive a medal or a finisher's kit, but he will receive a special token from the organizers and the fulfillment of guiding a friend or loved one through an unforgettable milestone in their life.
Please click HERE  for the Qualifications and Requirements from Personal Pacers.  Read thoroughly before you register as a Pacer.
If you are interested, we are now accepting applicants for PACERS for TBR ULAH Dream Marathon 2015. We only have 90 slots for Pacers.  Pacers will be accepted on a first come, first served basis.  Below is the link to the Registration Form.  We will announce the accepted Pacers before October 25, 2014.
<<< LINK: Pacers Registration Form >>>
Registration for DREAM CHASERS will open in January 2015.
---