The Bull Runner Unilab Active Health Dream Marathon is not just about letting first-time or second-time marathoners achieve their marathon dream. It is also about experienced marathoners being given the opportunity to give back to the running community, to give new runners the same support and motivation they received from others. To basically pay it forward.
If you are NOT a participant of TBR ULAH Dream Marathon, but you want to be a part of it. This is the way.
If you are NOT interested in running your own race and you are willing to set aside the time and effort to help others run 42km by providing them support, without receiving anything in return but a smile and a huge Thank You, then this could be your chance.
You can sign up as a DREAM CHASER.  We will open only 60 slots for Dream Chasers.  Acceptance will be on a first come first served basis, but priority will be given to runners who have provided support for TBR Dream Marathon during our Bull Circles, Bull Sessions, or past races.  The slots fill quickly (just like the race) so do sign up as soon as you can.  If you're interested, please read the details below and find the sign up sheet at the bottom of this post.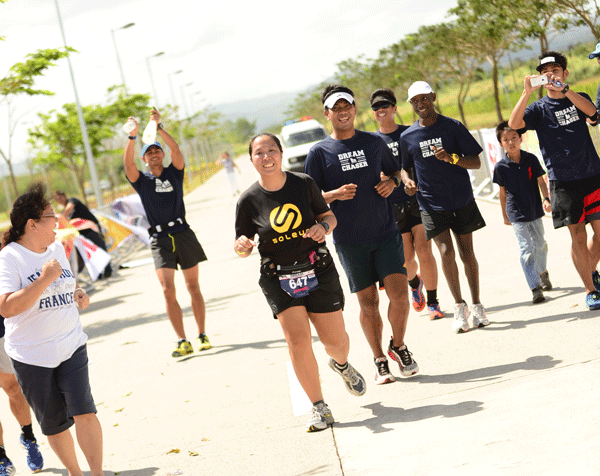 – Dr. Joanne Tan ushered in by Dream Chasers in her last few meters towards the finish line –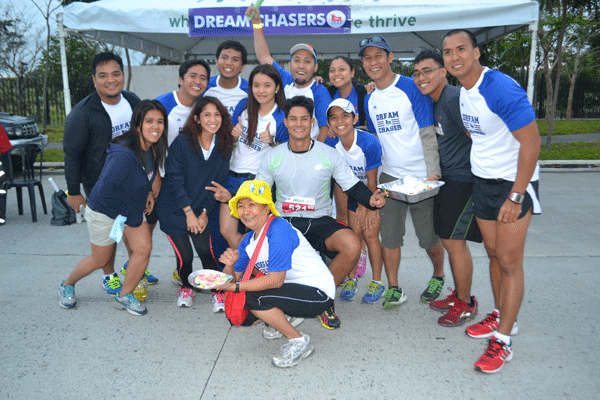 – Runner and Big Brother winner Daniel Matsunaga takes a break during the race for a photo with his Dream Chasers –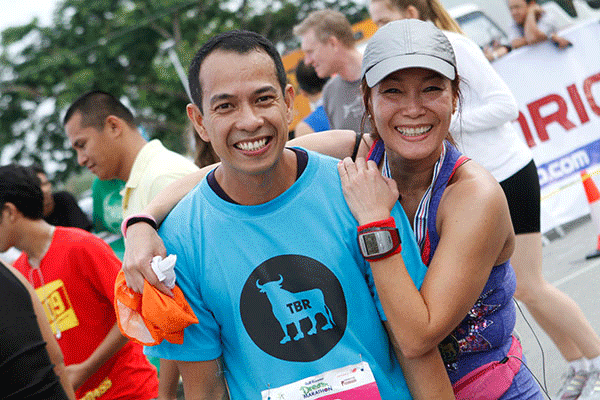 – Dream Chaser Peter Ros with Ruby Gan at TBR Dream Marathon 2011 –

ROLES OF DREAM CHASERS:
Dream Chasers will be assigned to one station along with his/her teammates. Each station will have 15 Dream Chasers including its DC Team Leader.  There will be 4 Dream Chasers stations along the course.
From the assigned Station to the next, run with a random group of DM participants or a particular participant with an apparent need to be paced.  Run should be a maximum of 3k only.
Provide creative and positive means of motivation, encouragement, and enthusiasm that will buoy the will of TBR DM participants during the race.
Assist in providing hydration to any participant in need.
Alert the Medical team and Course Manager of any participant needing outright medical / first aid attention.
QUALITIES WE ARE LOOKING FOR IN A DREAM CHASER:
Experienced runner, but not necessarily a marathoner
Serious passion for running
Positive, pleasant, cheerful attitude
Willing to provide exceptional moral support throughout the entire race
Believes in "paying it forward" to first time marathoners who need the same support as he/she received in the past
REQUIREMENTS:
Upon acceptance as Dream Chaser, the following will be required of you:
Active participation in coordination/planning meetings with your DC Group
Attendance of Volunteer Orientation. Date and venue will be announced.
Submission of signed DM and Nuvali waivers
Must wear the DREAM CHASER shirt as uniform during race day.
Present during the entire course of the race
If you are interested in applying as Dream Chaser, please click on the link below.  You will be notified via email or text if you are accepted.  The final list of Dream Chasers will be posted on tbrdream.com before the end of January 2015.
<<< LINK: REGISTRATION FORM FOR DREAM CHASER 2015 >>>
---