All TBR ULAH Dream Marathon participants are required to submit a medical certificate from a licensed physician to certify that you are fit to participate in the marathon. This is for your own safety. This was announced in your Welcome Kit.
The medical certificate must be dated from JANUARY 1 TO FEBRUARY 21, 2015.
To download a sample of the medical certificate, click HERE.
A medical certificate in a different format from the TBRDM standard will still be accepted.
Medical certificates will be collected upon claiming of your RACE KIT during the Send Off Party on February 11, 2015, Wednesday at Unilab Bayanihan Center, Pioneer Street, Brgy. Kapitolyo, Pasig City. The event starts at 7:00PM, but Race Kit redemption will open starting 6:00PM and will end at 9:00PM. NO MEDICAL CERTIFICATE, NO RACE KIT.
For those who fail to make it to the Send Off Party, race kits may also be claimed at: THE ATHLETE'S FOOT, BONIFACIO HIGH STREET – Feb 14 Saturday to Feb 18 Wednesday, 12 NN to 9:00 PM and DREAM MARATHON INFO BOOTH, THE FIELDS, NUVALI – February 21, 2:00PM to 5:00 PM
and February 22, 12 midnight to 2:00 AM. Present your medical certificate then.
We will not accept any medical certificate submissions prior to the Send Off Party.
SPECIAL PROMO WITH HI-PRECISION DIAGNOSTICS
We are pleased to inform you that Hi-Precision Diagnostics, our official laboratory partner, is offering a special package for TBR ULAH Dream Marathoners. This package is optional for participants.
The package was recommended by Hi-Precision's In-House Doctor, Dra. Lalaine Macatangay who suggests the tests below to ensure that your body is fit for long distance running or any high endurance sport. Included in the package is the medical certificate for the marathon, which we require for participation in the marathon. Total savings amounts to P750.
Runners who avail of the package must present their TBR ULAH Dream Card. Package is non-transferable and not convertible to cash. Offer expires on February 21, 2015.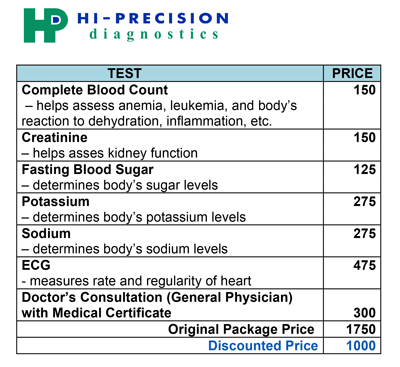 Participating Branches:
HPD Plus Fort BGC
Address: 3F Commercenter Bldg., 31st and 4th Ave., BGC City of Taguig (behind Mercury Drug)
Tel.No: 550-1735 / 552-3310
Cellphone: 0925-5259419
Office Hours: 7:00am to 4:00pm Monday to Sat
HPD Plus Rockwell
Address: The Powerplant Mall Concourse level No. 020-B Rockwell, Makati City
Tel. No: 899-8820 / 404-8120
Cellphone: 0922-8906667
Office Hours: 7:00am to 8:00pm Mon to Sun
HPD Plus Alabang
Address: 2301 Civic Place Unit 105-107 Civic Drive Filinvest, Alabang Muntinlupa City
Tel.No: 659-2673 / 659-2674
Cellphone: 0922-8906678 / 0917-8713008
Office Hours: 6:00am to 4:30pm Monday to Sat
HPD Pioneer
Address: Pioneer Center, Pioneer cor. United Street, Brgy. Kapitolyo, Pasig City
Tel. No: 631-7564 / 631-7306
Cellphone: 0922-8966723
Office Hours: 7:00am to 5:00pm Mon to Sat
HPD V. Luna QC
Address: G/F Garpas Tower 31-B V. Luna Brgy. Pinyahan, Quezon City
Tel. No: 436-8682
Cellphone: 0922-8906680
Office Hours: 7:00am to 4:00pm Mon to Sat
For more info, you may visit: https://www.hi-precision.com.ph
Click below to download PDF version of this blogpost:
Download: PDF MEDICAL CERTIFICATE INFO
---