The Bull Runner Dream Marathon 2023 is back!
Come and join the first and only marathon in the world that caters to first- and second-time marathoners!
Now on its 12th year, The Bull Runner (TBR) Dream Marathon will be held on Feb. 12, 2023 at Clark Parade Grounds in Pampanga. Registrants will enjoy a free marathon training program, in-person monthly Bull Sessions (run clinics), virtual monthly Bull Circles (running talks), and a Send-Off Party right before the race. Of course, you'll also have one of the most memorable experiences of your life when you run your first marathon with us surrounded by the cheers of our volunteer Dream Chasers and the support of your batchmates who will, by that time, be your best running buddies!
This year, we have a lot of new features for the race, such as a new Base Training Program to get beginner runners ready for the training ahead. This is purely option and virtual and begins on July 4. We'll also have a new mobile app which runners can use to view their marathon program for the week. Just for an additional monthly fee, you'll get a Strength training program for runners, meditation classes, and weekly motivational tips to get you race ready.
Application opens on JUNE 4, 2022 at 12:00PM. More info about registration HERE. Please read our RACE RULES and FAQ before signing up too.
As always, slots for TBR Dream Marathon run out within a few hours, so we encourage you to save the Application link and show up on time. Click below to access the link:
<<< SIGN ME UP FOR TBR DREAM MARATHON 2023! >>>
We look forward to running with you!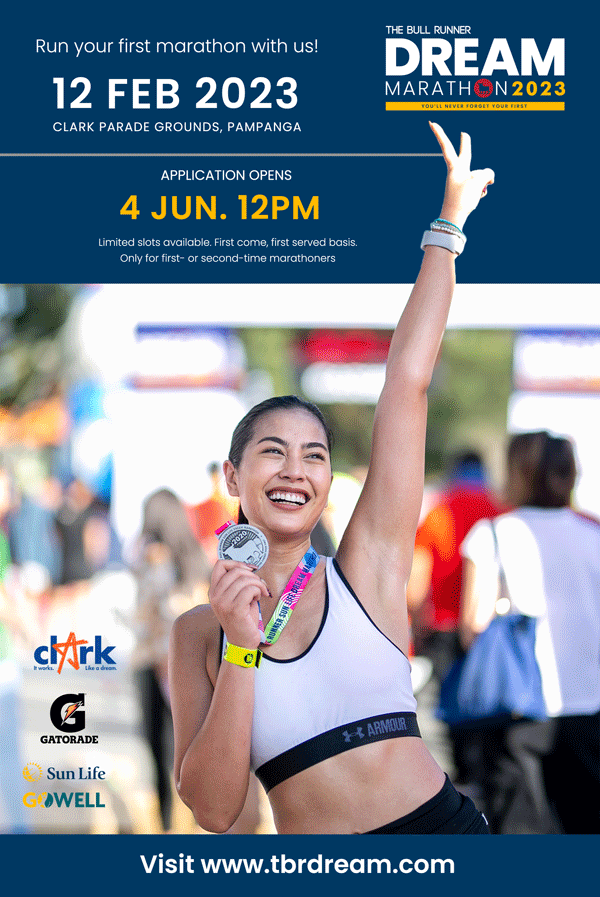 ---